Back in Action on All Fronts
August 15th, 2011 | by: Matt |

Comments Off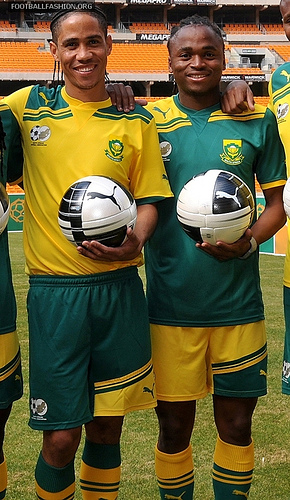 New Season
So…after three months away from South Africa, spent in Bangladesh (where I dropped this little piece on y'all…if you haven't read it yet, check it out. Do it.), I am back in Cape Town. So here we go.
PSL
The new PSL season kicked off this week, a welcome beginning after one of the strangest final days of any league, anywhere, back in May.
To give you a quick recap, Ajax Cape Town needed to win on the final day at home, in front of a packed house in the brand new Cape Town Stadium, assuming Pirates, who started the day below them by a point, would also win. Martizburg United, and the pressure, turned out to be too much, and Ajax amazingly went down to a 2-2 draw. Coupled with a Pirates win in Johannesburg, the title went to the Buccaneers. Ninety minutes from glory, the Mother City side was devastated at the final whistle. Wow.
New season, new hopes and dreams. Ajax has lost star Thulani Serero, more on that later, while the Bucs have picked up Benni McCarthy, who scored on debut. Chiefs kept their nucleus, as did Sundowns, mainly due to outrageous, and what I feel are damaging buyout clauses within the players contracts. Multiple European clubs showed interest in players like Katlego Mphela, but Sundowns simply refused to sell, and/or the buyout clause scared clubs away. Just selfish. Anyways, title is up for grabs, with the usual suspects all in the hunt.
Bafana in Europe
The big news on this front is Thulani Serero, one of the most exciting South African prospects in years, has taken his talents to Amsterdam, and Ajax. If you haven't seen this guy in action, rectify that ASAP. By watching this:
He has performed solidly for the Dutch giants in their first two matches, laying on a neat assist in his second match. Although second choice to Dane wunderkind Christian Ericksen, Serero will not be on any bench for long. Fact.
Bongani Khumalo has started solidly in the Championship, along with Dikgacoi and Mokoena. The Belgian contingent has also started well, with multiple appearances for Davids, Claasen, Gaxa, Ngcongca and Keet.
CAF Qualifiers
Bafana take on Niger in September, and if they win AND Sierra Leone don't defeat Egypt (a fairly likely scenario, although Niamey will be a tough away trip), then they are through to the 2012 AFCON.
In terms of the 2014 WC, Bafana will take on Botswana, the Central African Republic, and a yet to be determined side. The winner of this four team group will advance to a two legged playoff, the winner of which will head to Brazil. One word. Hectic. Just to be clear, the likely opponents in that two legged playoff could be one of: Cote D'Ivoire, Egypt, Ghana, Cameroon, Nigeria, Senegal, etc. Yikes.
SAFA and the New Kits
As I reported back in February, there was a typical fiasco involving the new kits for Bafana, as the contract with Adidas was not renewed. Contrary to what I predicted, SAFA did u-turn and decided to go with Puma. The results are somewhat bland. And like I predicted….it looks like, oh, well, EVERY single other Puma kit. Not cool Puma. Not cool.
So let's get ready for a big season all around. Comments/questions/suggestions welcome as always.
Subscribe

South Africa World Cup Team Blog RSS Feed

Share
Comments are closed